gOOD MORNING FRIENDS!
Sorry i have gotten a little behind.Hubby has been out of work this week and when he is here,i can get nothing none! Not too mention i have 3 of the grandkids,so,,,One day at a time.lol.I will try to post a few giveaways i have entered this week so you have the chance also.I would like to take the time to say thank you to my readers and also my followers.If your not already following please take a moment to do so.I have some great things coming up for the holiday season for your family from ideas,recipes,giveaways and reviews...
I do appreciate all of you.
What can you enter to win this week????
Let's see....Thanks for stopping by.Take a second to follow me and don't miss a giveaway.
Betty R~Starting again
~~~~~~~~~~~~~~~~~~~~~~~~~~~~~~~~~~~~~~~~~~~~~~~~~~~~~~~~~~~~~~~~~~~~~~~~~~~~~~~
akblessingsabound
one
lucky Blessings Abound Mommy reader will win a 5X7 rug (12 tiles) from the FLOR™ excluding Shaggy Sheep and Coir! These are nice and would be great for holidays or as a gift for someone you care about!i like the princess pink!Would this not be dear in a girl's room!head on over ends October 25th at 11:59 PM click above to enter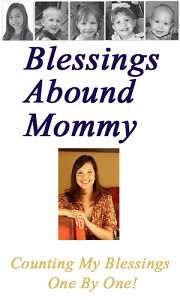 Tide, Bounce, & Downy Laundry Gift Basket Giveaway! 3 winners:in 2 days, 15 hours, 47 minutes
I would love to win this,save good on my tide and softner buying...
Danielson Designs the Studio Giveaway:
in 2 days, 15 hours, 47 minutes
Anytime Costumes Giveaway:
in 5 days, 15 hours, 47 minutes
Le Creuset Forged Hard-Anodized Deep Fry Pan and Glass Lid Set Giveaway:
in 6 days, 15 hours, 47 minutes
AGELESS Anti-Age Perfume Giveaway:
in 7 days, 15 hours, 47 minutes
Bravado Designs Maternity & Nursing Bra Giveaway:
=================================================================================
notimemom.
has an anytime costume giveaway up until 10/8/09-these are great,go check em out!
___________________________________________________________________________________
FROM
unique-baby-gear-ideas
YOU HAVE A CHANCE TO WIN AN INFANT SUIT FROM ANYTIME COSTUMES!! GO ON OVER IT ENDS October 11th, 2009.
Unique Baby Nursery Themes and Bedding