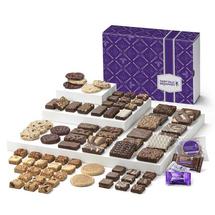 I have to tell you about some wonderful brownies we got around Christmas!This are top on the list for my family .They are ..
Fairy Tale Gourmet Brownies
To begin with they come in a lovely holiday box and each brownie is indivijually packaged for presentaion and freshness.We got an assorted box and this came with the following flavors.Pecan,peanut butter ,caramel,choclate chip,origional and white chocolate.I can say i sampled everyone of them except the white choclate,which my daughter devored christmas morning,and they are simply ...aahhhhh,,delicious!My favorite was the caramel,but all of them are super.These taste like they were fresh and cooked just for us.
My granddaughter summer leigh anne enjoyed half of one and as you can see that was not enough.The choclate on the mouth gives her away as she is trying to get more!Which she did!
Grandson Kolby quickly took his and moved to the corner of the couch,he got comfortable and enjoyed the pecan brownie.Looks like he liked it!What do you think?
This is taken from their website.."Inspired by a treasured family recipe and a commitment to excellence, we created enchanting Fairytale Brownies. Our magical blend indulges your senses with fudgy chocolate goodness, taking you back to fond childhood memories.
Helping us spread this joy is our Brownie, a cheerful fairy of Celtic folklore who delights in performing good deeds. He lives in an enchanted forest tending to the exotic cacao bean trees from which our chocolate is crafted. All of this magic is what you'd expect from a luscious combination of pure ingredients - rich, dark Callebaut Belgian chocolate blended with pure creamery butter and farm fresh eggs. All-natural Fairytale Brownies are certified kosher and free of trans fats, hydrogenated oils, preservatives and artificial colors.
Pure chocolate enchantment is as close as your first bite!''
Now i would like to add.I do not typically have lot's of sweets laying around but these are not real sweet.You can enjoy these and not feel like you have cheated your self.These almost taste like,naturally sweet,Not a lot of added nonsence.These can be ordered online and they will quickly arrive.So easy!! They Ship any gift for only $6.95 per address and Delivery in 3 business days guaranteed!
The only negative thing i could say is that the peanut butter one fell apart easily into several peices,It was soft and crumbly and they are a little pricey,around 3.00 each but for gormet brownies they are reasonable.
So do i recommend these??YES! I will be ordering again and this time will try and get a few extras for other family members.Yes these are definately for sharing.For birthdays,holidays,or maybe a special thank you gift
Fairy Tale Brownies
would be perfect.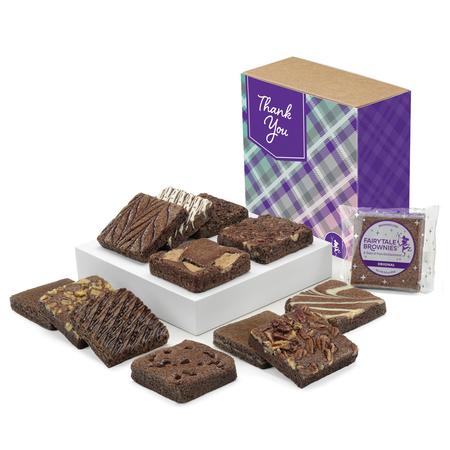 And right now you can Save up to 50%
on select gifts! If you really want to experiance these largely,they also have bulk brownies available! lol...Maybe order some for the office,they would remember this gift.They have 12 great flavors to choose from.Fairy tale also has coffee(which i want to try) cocoa,nuts and more!
TO TOP all this off you can also Add a PERSONALIZED Greeting Card to your gift!
Add a special message or even upload a digital photo from from your computer!
What are you waiting for? go get some fairytale brownies!
I did not recieve anything free for this review,and is my honest opinion of this product.
Have a blessed and safe new year!
Betty R~Starting Again