Welcome friend!Thanks for stopping by.I thought i would get some washing done but with the skies a dreary grey and blue i better wait!I like to hang out my clothes so rain and damp weather say no.Funny i have a dryer and it is not even hooked up.I may one day but not just yet.
Just me here today and i have been going through the stuff that is stacked in Darrell's old room.Their stuff and mine just setting in there not being used.I have went through most and have theirs boxed up in a corner and have went thru mine taking out most for our yard sale.I will not be bringing the stuff left at sale home ,we will donate it to the christian center for redistributing to someone that can use it.Tired of things i never use being here.Now that Zack has left and went to his moms,age 17,i would like to be able to use one or the other room for sewing,computer and arts and crafts room!So that is my intention.
So now i am taking a break and entering a few contest,want the low down!Enter and win..lol...
Here are some links to giveaways i think you will enjoy..
Have a wonderful day and thanks to all my loyal readers and followers as well as my new visitors..
have a good one
Betty R ~Starting Again
===================================================================================
One of my favorite blogs to visit is
psychic mama
.!She has a really cool blog and always has something wonderful and exciting going on.So make sure you go by and visit and enter all her wonderful giveaways!She works hard so hats off to Cathy!
here are a few of her giveaways going on now!
psychicmama-win uprinting.com stickers-ends oct.28th!
psychic mama HAPPY THANKSGIVING POSTCARD GIVEAWAY-100ct from UPRINTING!UPrinting.com
ends oct 28th!
~~~~~~~~~~~~~~~~~~~~~~~~~~~~~~~~~~~~~~~``
thebertones
El Tacodor Dinner Game Review & Giveaway: ends october 29th!hurry
----------------------------
A really comfy blog i have been visiting is
little miss heirlooms
I think you'll like it too.Right now she is giving away Giddy Up Set for your little cowboy or cowgirl!So head on over it ends nov 1st.
Just how cute is this?
=====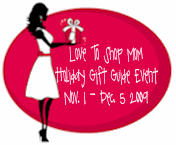 =====
lovetoshopmom enter to win smelly washer giveaway!
and also enter the
lovetoshopmom-Tropical Traditions Review and GIVEAWAY
=====
thenursemommy
Win eXRS radios from Trisquare!ends 11/4 at 10pm us only
snipsandsnailsboutique enter here
One reader will win both Shaun the Sheep: Little Sheep of Horrors and Trick or Treat Tales DVDs. THIS IS A 48 HOUR GIVEAWAY! Giveaway is open to all US residents and will end Wednesday October 28.
===
katydidandkid
250 Stickers/Labels with Free US Ground Shipping,ends tomorrow!
======
katydidandkidenter to win wearable blanket ends nov 1
katydidandkid progresso-panko-gift-basket giveaway